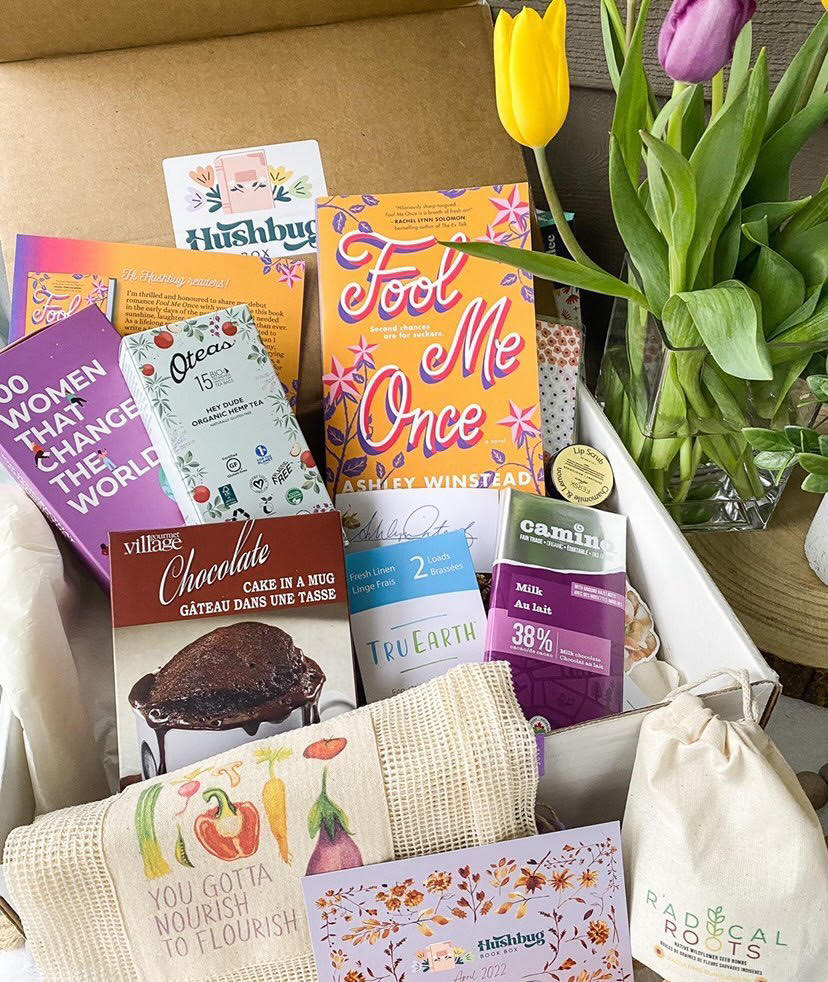 Hushbug Book Box — April 2022 Box
Since Earth Day is in April, our April Hushbug pick is a second chance romance with an environmentalist focus, Ashley Winstead's Fool Me Once. The book features flawed characters, political campaigns, transformations, and a whole lot of sass and snark. As a perk exclusive to Hushbug subscribers, we've included a signed bookplate and author letter from Winstead.
Make the earth a better place
The protagonist of the story, Lee Stone a.k.a. "Stoner," is passionate about all things green — after all, she's the communications director at an electric car company and her biggest career goal is pushing through a clean energy bill. So, we figured it was only appropriate to include a few items that would allow you to channel your inner environmental warrior, just like Lee.
First, something that will help make an everyday chore a bit greener, a pack of Tru Earth laundry detergent strips. Transporting huge, heavy jugs of laundry detergent can be tough in terms of the carbon footprint — these detergent strips will leave your clothing squeaky clean while being a little easier on the environment.
For another simple swap, try taking the You Gotta Nourish to Flourish produce bag from Everite Design for a spin at your local farmers' market, where it can serve as a green and gorgeous alternative to plastic bags. Eating seasonally is more environmentally friendly, as you're not consuming things that have been transported from across the globe. Plus, seasonal produce typically tastes better — we have a feeling that foodie Lee, who is always interested in checking out Austin's trendiest restaurants, would definitely approve.
Finally, in order to make your little corner of the world bloom, we've included some sunflower flower seed bombs from Radical Roots. Seed bombs make the planting process effortless, and the flowers will be a beautiful addition to your yard or balcony. And, we've included a cute flower sticker to tide you over while you wait for your bright red and golden yellow sunflowers to bloom.
Indulge a little
Early in the book, Lee mentions that her bungalow is "the epicenter of [her] friendship" with her crew, "a girlie nest filled with overstuffed pillows and candles and wine" (p. 28). Why not use Lee's gatherings as inspiration and invite your closest friends over for a night of self-care and pampering featuring a few additions from the April box?
First of all, no gathering is complete without a bit of chocolate, and we've got two options. The Camino organic and fair-trade milk chocolate bar is a smooth, creamy treat with just a hint of nutty hazelnut flavor. To double down on chocolate-y treats, you could also whip up the decadent Gourmet du Village Chocolate Cake in a Mug Mix — it makes more than one serving, so it's perfect for splitting with friends.
No self-care evening is complete without a few great beauty products, and we've included one for you to try out — the Fersk chamomile and lemon lip scrub. The organic sugar crystals paired with the oils within the scrub will leave your lips feeling smooth and moisturized.
Finally, though Lee's go-to beverage of choice seems to be wine, it's always great to have tasty non-alcoholic options on hand, such as tea. The Oteas Hey Dude Organic Hemp Tea pairs well with a variety of sweet treats, and includes a blend of soothing ingredients including hemp leaves, cinnamon, lavender, and ginger. And, there's a hit of caffeine courtesy of the Yerba Mate tea, so you can chat with your crew until late into the night.
Get inspired by other strong women
Lee doesn't only get her romantic happily-ever-after with Ben by the end of the book — she also gets her career-centric HEA, taking steps towards the lifelong dream she has of running for office (the state senate, in her case).
If you need a boost of inspiration in your own life, we can't get enough of the 100 Women That Changed the World card pack from Gift Republic. The pack features beautifully designed, pastel-hued cards, with each card highlighting a different woman, from athletes to scientists and everything in between. Flip through the deck whenever you're feeling discouraged and find some inspiration from the incredible women featured.
And, something to use when you're reading the next rom com on your TBR list, or perhaps working your way through a biography of a woman you admire, a cute laminated bookmark from Twin Reads Blog.
Hushbug Book Club Discussion Questions
This book features a second chance romance trope, in which two characters who were once together reconnect. Do you typically enjoy this trope? Did you like it in this book? Why or why not?
Lee has several close friends that she turns to for advice, or simply to vent, throughout the book. Why do you think Winstead made these female friendships such an important part of Lee's life?
When they're trying to figure out which movie to watch, Lee's sister Alexis says the following: "no one wants to watch people they don't like fall in love." This comment is interesting, given that Lee is definitely portrayed as a flawed character. What did you think of Lee as a character? Do you typically prefer your rom com heroes and heroines to be flawed and complex?
In a press conference that was supposed to be addressing her boss Dakota's affair (Chapter 28), Lee ends up giving a powerful speech about sexism and the double standards between how men and women are treated. Consequently, Dakota ends up changing her own speech from an apology to an empowering statement about leadership. What did you think about this scene and the gender equity issues it addresses? What are your thoughts about how romance as a genre is typically perceived?
Many rom coms and romance novels have epilogues about the characters' lives, often giving readers a glimpse into their happy future. Winstead's epilogue focuses on Lee's career instead, showing Ben supporting her as she runs for state senate. Did you like this epilogue? Why or why not?