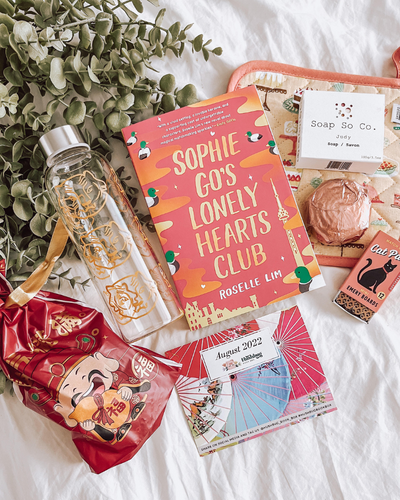 Hushbug Book Box — August 2022 Box
Rom coms are packed with love stories — but what about the people who have trouble finding their perfect match? That demographic is exactly who the main character of this month's selection, Sophie Go's Lonely Hearts Club by Roselle Lim, serves. Sophie Go, the heroine of this book, is a newly minted matchmaker who ends up starting her business with an unconventional series of clients. As she finds the perfect match for one after another, she gains confidence in her skills as a matchmaker — and simultaneously develops the strength to be her true self and stand up to her parents.
And, as with any romance, there's a happy ending for Sophie as well as she finds her other half in Mr. Particular.
Indulge in the sweeter things in life
There's no denying that Sophie absolutely adores candy — there are multiple descriptions of her sweet treats throughout the book, and she even dreams of one day having a massive candy pantry. Obviously, we had to pay tribute to her passion by including a few different candies for subscribers to sample. In a playful red pouch is an assortment of Asian candies that we bet Sophie wouldn't be able to resist — you can have fun trying all the unique flavours and textures.
The box also includes an adorable pot holder from Now Designs. One of Sophie's closest friends from the Old Ducks club is Mr. Regret. He's a talented baker who loves whipping up sweet treats for his friends, such as the impressive macaron tower he creates for Sophie's open house. Get inspired by his love of baking and use this adorable cake print pot holder next time you make something in the kitchen — the print even includes a macaron tower (although creating that may be a bit advanced for the average home baker).
Take time to pamper yourself
Throughout the novel, Sophie is constantly working to serve her clients as she tries to establish herself as a matchmaker and eventually get properly certified. What she doesn't always do is recognize the importance of taking time to care for herself — and she should, as should you!
While there are many luxurious products perfect for bath lovers, if you're more of a shower person, you'll love the Bliss Shower Spritzer from Happy Hippo Bath. Place the small puck on your shower floor and let the incredible scent fill your bathroom as you shower. It even has aroma notes of sparkling champagne, reminding you to celebrate yourself every day.
You can pair that steamy, aromatherapy-infused shower with a little home manicure to round out your pamper session. We've included a matchbox filled with mini emery boards from Kikkerland Designs. The miniature format means you can easily tuck them away for any nail emergencies on the go, and the cute cat print pays homage to Mr. Wolf, one of the Old Ducks whose feline friends are his passion.
Infuse joy into everyday staples
From the moment Sophie meets the Old Ducks club, they bring joy to her life, eventually bestowing the honourary title of Duckling upon her. Given what an important part of Sophie's life they become, we had to include a few items that paid tribute to the club.
Sophie begins to specialize in finding matches for older clientele, and she even makes a match between two of the Old Ducks themselves, who spent decades harbouring secret feelings for one another. The joy of their budding relationship is captured in a stunning limited-edition soap from Soap So Co. The bar of soap has striped layers in a rainbow colourway, and a lively citrus scent that will refresh you every time you use it.
Sophie's unique naming system includes a few animal monikers, such as Mr. Porcupine and Mr. Dolphin, and her Asian heritage is an important part of her character. The gorgeous glass water bottle with golden tiger print figures from Danica Studio touches on both elements, making it the perfect pairing for the book.
Hushbug Book Club Discussion Questions
Sophie has two comforts that are referenced throughout the book —songs by The Beatles, and candy. Do these comfort items tell us anything about her character?

Sophie sees love as a physical thing, red threads sparking and reaching and erupting in a blaze. How did this offer insight into characters whose thoughts we wouldn't have otherwise known?

On page 41, Lim writes "life involved risks and without them rewards had no value or meaning." Discuss this quote. What kind of risks does Sophie take in the book? What kind of risks do other characters take? Do they pay off?

Though Sophie does find her love match with Mr. Particular, a huge component of the book involves her friends, who become her found family. Discuss Sophie's relationship with her parents, and why her relationships with Yanmei and the Old Ducks become so important to her.

Lim spends a lot of time describing everyone's living spaces — all of the Old Ducks' apartments that Sophie visits, Sophie's parents' home, and even Sophie's childhood bedroom. How do these vivid descriptions of their spaces help us learn more about each character?