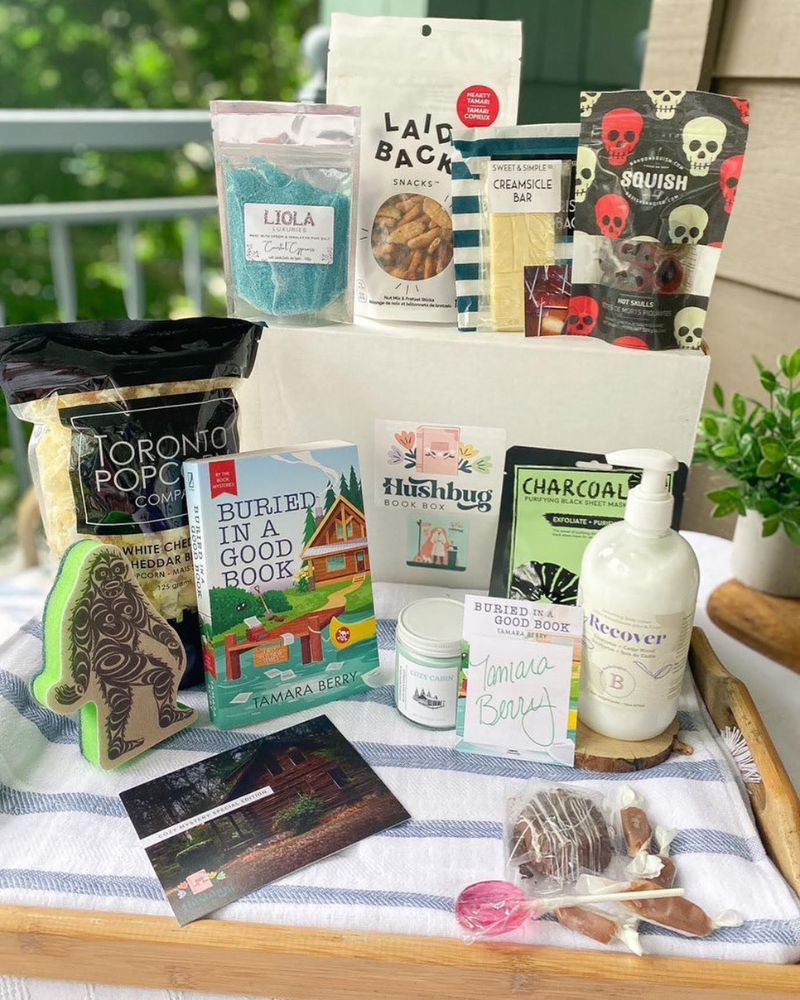 Hushbug Book Box — Special Edition Cozy Mystery Box
While we can never get enough of rom com reads, sometimes it's fun to branch out with what you're reading — whether you're a lifelong mystery lover or a rom com devotee looking for a change of pace, the cozy mystery genre has some great options. For our Special Edition Cozy Mystery Box, we've selected Tamara Berry's Buried in a Good Book, which comes with a signed bookplate just for Hushbug subscribers.
Berry's mystery will transport you to a cabin in the woods of a small town, and you'll find yourself on the edge of your seat as the clues unravel and the book's protagonist gets closer and closer to cracking the case.
Conjure up some cabin ambience
You may want to set aside a full evening to immerse yourself in this cozy mystery, because trust us — once you start, you won't be able to put it down. We've included a few products in the box that will help set the scene, making you feel as though you're breathing in the rural air at Tess's cabin in the woods.
Scent does a fantastic job creating a particular ambience, so we've collaborated with Allen Wick Candles to create a custom Cozy Cabin soy candle that you can burn while reading the book. The woodsy, slightly musky, evergreen scent will serve as the first step to transporting you into Berry's world.
If the bathtub is one of your favourite spots to lose yourself in a book, you'll love the Coastal Cypress Bath Salt Soak from Liola Luxuries. All of the brand's items are hand-crafted in small batches, and this particular product is infused with an aroma of misted cypress that is perfect when paired with Berry's book.
Finally, continuing with the theme of woodsy scents to create an immersive reading experience, we have a Eucalyptus + Cedar Recover Smoothing Body Lotion by The Bathologist. As an added bonus, using lotion after a bath is a great way to really lock that moisture into your skin, making it the ideal next step after your salt soak.
Indulge in a few unexpected snacks — because nothing is quite as it seems
In the book, there are countless moments when you think you have a character figured out, only to be surprised by some new piece of information Tess uncovers. We have a few mysterious snacks that carry that same element of surprise (with much lower stakes).
The first is SQUISH's Hot Skulls gummies. These super unique gummies are a cherry vanilla coke flavour, but in the center is a spicy jelly chili filling that flings your taste buds from sweet to heat.
The box also contains a handcrafted sweets surprise bag from Sweet and Simple Co. — you won't know what you're getting until you open the vibrant packaging and see what's inside, just as Tess never knows what new discovery will lead her on another mission.
Stock up your snack cabinet
Let's be real — if Gertie wasn't putting discounted canned beets and other healthy ingredients into the shopping cart, we have a feeling Tess would primarily be feeding herself through snacks and other quick bites. So, whether you want to indulge while binging this book or simply want to be prepared for your next read, this box has quite a few options to stock up your snack cabinet.
For those who love all things cheesy, the white cheddar popcorn from Toronto Popcorn Co. is a must-try. Those with a sweet tooth will adore the Templeman's Toffees jumbo caramel cup, packed with gooey caramel filling and drizzled with a mixture of both white and dark chocolate. Finally, for something that's a perfect blend of indulgence and health (even Gertie would approve), Laid Back Snacks has a Hearty Tamari Nut Mix & Pretzel Sticks. The combination of sesame sticks, pretzels, almonds, and cashews, all coated with a tasty tamari seasoning blend, will sustain you throughout your next adventure — whether you're trying to solve a series of murders happening in the woods behind your home like Tess (let's hope not), or just trying to get through the work day.
Get inspired by the secret identities in the book
When Tess and Gertie first arrive at the cabin, Gertie questions whether the loud noise they suddenly hear echoing through the air twice might be Bigfoot, a mythical theme that continues throughout the book thanks to the use of some (not so clever, in Tess's opinion) costuming.
Add a dose of Bigfoot to your cleaning routine with the Sasquatch Handy Sponge from Native Northwest. The company works with Indigenous artists to create stunning items, from clothing to home goods, and the sponge features a gorgeous illustration from artist Francis Horne, Sr. It's beautiful and functional — what's not to love?
And, while you likely won't be tempted to dress up in a Bigfoot costume like the villains in the book or run an undercover operation like Nicki Nickerson, you can don your own disguise while purifying your pores at the same time, thanks to this charcoal sheet mask from Naisture. You'll want to leave it on for 15-20 minutes in order to truly work its magic, so you can pop it on while you read a few chapters — or crack open the next book in your TBR pile.
Hushbug Book Box Book Club Questions
On page 133, Berry writes "one of the things that being a writer had taught [Tess] was that coincidences could and did happen all the time in real life. It was only in fiction that every random clue had to tie in to the resolution." Once you finished the book and knew the ending, were there any particular "red herring" clues Berry included that steered you in the wrong direction while you read? Were there any you thought were very effective?
Throughout the book, Tess's perspective as a thriller author makes her particularly attentive to all the little details of everything going on around her, and yet the actual criminal ended up being someone formerly very close to her. Do you think her attentiveness made her a good amateur detective, or did she get too distracted by all the potential theories?
Who was your favourite character in the book? Why?
Cozy mysteries have a few elements that make them a subgenre distinct from typical mystery novels. Is cozy mystery a genre you typically read? Do you like it more than traditional mysteries? Why or why not?
Did you suspect Quentin would end up being the murderer? Looking back, what clues led you in that direction?