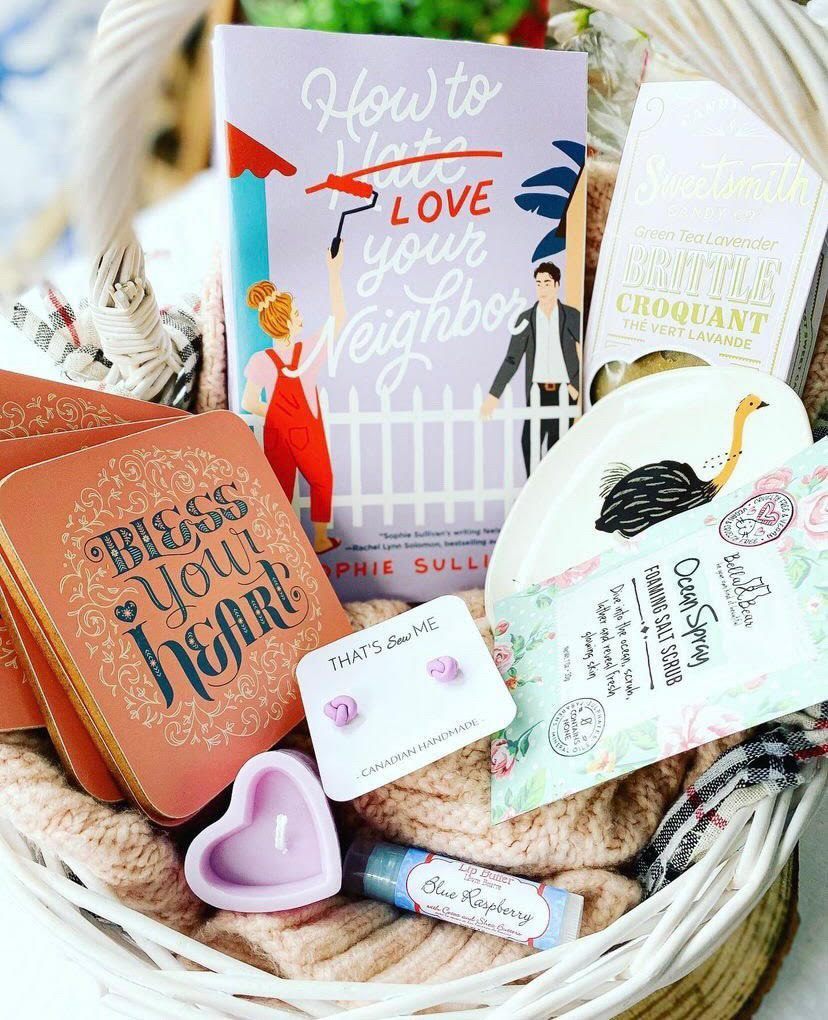 What better month than February to kick off a subscription box focused exclusively on rom com reads? Here's a bit more about what was in our inaugural Hushbug Book Box — and this is just the beginning! Team Hushbug has some fantastic boxes coming up in the following months that you won't want to miss out on.
Our very first Hushbug book was Sophie Sullivan's How to Love Your Neighbor, an enemies-to-lovers rom com that features feuding neighbors that end up falling head over heels for one another as they renovate their respective spaces and find out all about the true meaning of home. We were thrilled to include a special bonus for subscribers as well — a signed bookplate with a message from Sophie!
Spruce up your own space
Given that Sullivan's book is focused on two individuals transforming their homes, it only made sense to include a few items that allow you to refresh your own space. The February box featured a set of coasters from Danica Studio, with two variations available. Both coaster sets featured beautiful, delicate illustrations — given that Grace is all about design, these coasters pay homage to her passion while allowing you to keep all your special furniture pieces ring-free (who else was dying to pay a visit to Mi Casa after hearing Grace rave about the fictional store?)
Many will remember the adorable dinner and painting date that Noah surprises Grace with at the pottery and art studio — we like to think that the trinket tray in this box (also from Danica Studio) references that sweet moment. Plus, the cheeky ostrich-on-a-unicycle illustration is guaranteed to make you smile whenever you use it. It's the perfect spot for storing jewelry (such as the stud earrings, also in the February box) or hair accessories for your own date nights.
And, because a space just isn't cozy without a few candles, we're loving the exclusive Hushbug x Kiki Candles heart pillar candle. The soft purple colour is gorgeous, the peaches and cream scent is incredible, and the playful design will set this candle apart from all the others in your collection.
Set aside some time to pamper yourself
Noah can't help but notice just how hard Grace is always working, between wrapping up her design school coursework, helping to design his house, and more. We have a feeling many of our subscribers likewise have packed schedules full of responsibilities, which is why it's so important to take time to pamper yourself.
While you may not actually be able to visit Harlow Beach, you can indulge in that ocean atmosphere with Bella & Bear's Ocean Spray Salt Scrub & Wash. The scent will make you feel like you're spending the day at the beach, and your skin will be left feeling refreshed and silky smooth.
Continue that beachy feel with the Blue Raspberry Lip Butter from Northern D'lights. The vibrant blue hue will remind you of the ocean, and the combination of cocoa butter and shea butter will keep your lips nourished.
Get all dolled up for date night — or stay in for the evening
If the book has you inspired to head out in search of your own meet-cute — or you simply want to catch up with your bestie — we've got the perfect accessory for you. The knotted stud earrings from That's Sew Me are simple yet stunning, and will complement just about any outfit.
Or, if you'd prefer to curl up with the next book on your TBR list, we've got a snack to fuel your next reading adventure — Sweetsmith Candy Co.'s Green Tea Lavender Brittle. Each package of brittle features a full serving of matcha, so you can get a taste of the type of beverages that might have been on offer at the cafe Grace worked at towards the beginning of the book.
Hushbug Book Club Discussion Questions:
The enemies-to-lovers trope is common in romance. Do you typically enjoy this trope? Did you enjoy it in this book? Why or why not?
Noah's initial approach to his home renovation is to simply pay others to do the work — yet Grace's self-sufficiency seems to bother him. What does this say about his character? How does his approach evolve throughout the book?
One of the book's central themes is the question of what makes a home. As Grace says in the final chapter, "A home isn't walls, a roof, and a floor. It's a feeling; it comes with being seen and accepted for who you are." What does "home" mean to you?
Noah and Grace both transformed their physical spaces, but what kind of internal transformation did they each go through?
Both Noah and Grace make a grand gesture towards the end of the book — Noah with his presentation, and Grace with her pool set-up. What were they each trying to convey with these gestures, and why were they so impactful?