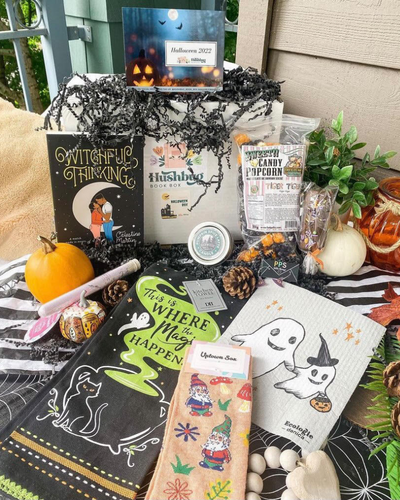 Hushbug Book Box — Halloween 2022 Box
While rom coms will always be at the top of our TBR pile, we love to give our subscribers options to embrace the season with our special edition boxes — so of course we had to curate a Halloween box with items perfect for spooky season. And, we can't think of a better read to get you in the spirit of the season than Celestine Martin's Witchful Thinking, a love story between a witch and a merman that unfolds in a charmingly supernatural town.
Though Freya Grove is a fictional locale that you can't actually visit, the mix of items in our box encompass the spirit of the town and serve as the perfect accompaniment to Martin's paranormal romance.
Decorate your home for spooky season
As rom com lovers, we love spooky decor that has a whimsical touch, and the three home items in this Halloween box will help transform your space for spooky season.
First, fall decor wouldn't be complete without at least a pumpkin or two, and we love the mini hand painted artificial pumpkin from Emily Cromwell Designs. The hand-painted nature of this product means you'll be displaying a one-of-a-kind piece, and the color palette is perfect for the season. Plus, thanks to the petite size of this pumpkin, you can tuck it in any corner that needs a little festive flair.
We also included a great sustainable product, Ecologie by Danica's Spooktacular Swedish dishcloth. For those who aren't familiar, Swedish dishcloths are an eco-friendly alternative to things like paper towels or sponges. Not only is this cloth useful for keeping your kitchen tidy, it'll also look adorable hanging in your sink — we can't get enough of the trick-or-treating ghosts print.
Finally, as tribute to Lucy Caraway and all the other witches in her life, a dish towel from Design Imports with a print that incorporates everything a witch could need — a black cat and a cauldron bubbling with a bright green potion.
Channel your inner supernatural being with fun accessories
As Martin reveals on page 111, Lucy finishes her week in style by wearing a pair of her emerald earrings every Friday. Take a page from her book and rock the adorable witch hat or jack o' lantern earrings from Paper Pattern Silk to wrap up your week with a hint of spooky style.
Freya Grove is filled with all types of magical creatures, including the gnomes that Lucy warns Alex not to upset. And, as they end up helping him with his grand romantic gesture at the end of the book, we had to pay tribute to them in the form of these fun, colourful socks from Uptown Sox.
Brew up a little self-care
We have a feeling there's no potion a Caraway witch couldn't brew if she consulted the prized family spell book. Since us regular humans don't have the same magical abilities, we've included the next best thing — two great products that will help you brew up a little self-care.
From Yummy Bubbles, we've got a lavender and lemon tub tea test tube, a product that also honours Lucy's obsession with tea (was anyone else wishing they could get an actual glimpse at the tea pantry she mentioned?). The energizing yet relaxing aroma of lavender and lemon is a magical combination after a long day, when you're soaking in a bubble bath with a good book.
And, for a seasonal touch during your next home spa night, light the pumpkin spice latte mini mason jar candle from Backwoods Soap & Candle Co. The blend of pumpkin, vanilla, cinnamon, and clove will immediately get you in the spirit of the fall season.
Snack on your own festival-friendly treats
Lucy is a big fan of the Founders' Day Festival, and she snacks her way through quite a few of the treats on offer at the event. While that festival takes place in the summer, the two seasonal treats we've included would be popular festival fare (we think) for a Freya Grove town event in the fall months.
Simple buttered popcorn just isn't quite festive enough, so instead try some tiger tiger candy popcorn from Chocolate Moose Fudge Factory. The nostalgic flavour will bring up childhood memories, and the vibrant orange and black candy coating on the kernels makes this the ideal seasonal snack.
Since food on a stick in some form is practically a festival food requirement, satisfy your sweet tooth with a Halloween marshmallow stick from Norm & Lenore. The soft marshmallow interior and creamy layer of chocolate coating make this an irresistible combination — and the colorful sprinkles add a fun touch.
Hushbug Book Club discussion questions
On page 21, Martin writes "Magic was an open secret in the Grove. Not everyone subscribed to the magic, but it was there in the atmosphere, ready for the picking like hanging flowers from a tree." What impact did the town of Freya Grove itself have on the story? What would have been different if the protagonists were the only supernatural creatures in the town?
On page 136, Alex reflects on an unspoken rule that his family has: "Don't keep anything that you don't want to lose." How does this family rule shape his character? How does it impact his relationships?
The Caraway girls decide to join forces and cast a powerful wish spell in order to get what they want in life. Discuss how the spell played out for the different characters. Do you think Lucy would have done everything she did if the spell didn't force her hand?
Lucy and Alex struggle to define their relationship and what they are to one another, eventually landing on "starfish." How does this simple choice illustrate the power that words have? Why did this term please Alex when others didn't?
Do you typically like paranormal romance? Why or why not? Did you like this one?