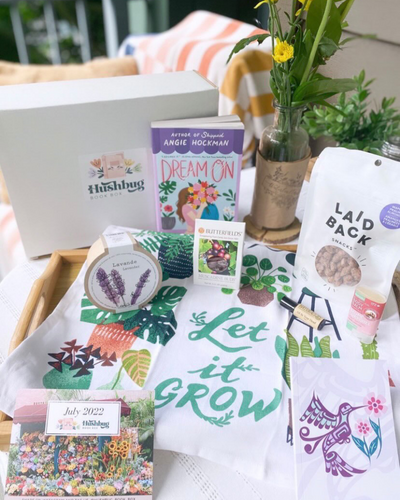 Hushbug Book Box — July 2022 Box
If you're looking for a rom com with some fun twists, you won't want to miss our July Hushbug pick, Angie Hockman's Dream On. The plot contains everything from a dream suitor to a love triangle, all running alongside the protagonist Cass's journey to finding herself — and her real dream man. This month's selection of items will allow you to bring some blooms into your own life while reading about Cass and Perry's love story.
Nurture your green thumb
Perry creates stunning bouquets from the flowers he lovingly grows at his shop, and definitely has a serious green thumb. If he has inspired you to try your hand at growing some blooms yourself, you'll be all set with the compostable lavender pot from Mano verde. You can start your tiny lavender plant in the compostable container, watching those first few shoots poke through the dirt, and soon enough you'll be able to transfer it into your planter of choice and enjoy your gorgeous lavender blooms.
And, while every home needs a few plants, we also love some decor products that bring nature into your space — that's why we've included an illustrated tea towel from Danica Jubilee with all kinds of stunning plant illustrations.
Finally, while you can't actually try the tasty treats local vendors were serving up at the beer and flower festival Cass helps plan to raise money for Blooms & Baubles, you can enjoy a few delicious bites while you read. From Laid Back Snacks, a brand you may recognize from previous boxes, we included almonds coated in maple syrup and praline for a protein-packed yet utterly decadent snack. And, from Butterfields, muscadine buds, a hard candy that's absolutely packed with fruity flavor.
Get in touch with your artistic side
Perry surprises Cass with a mini easel and paint set as a gift, something that inspires her to start painting again after ignoring her artistic side for so long to focus on her legal career. Whether you're looking to get creative like Cass, or simply need a spot to jot down your to-do list, we love the notebook included from Native Northwest with a stunning hummingbird print on the front.
Soothe your own ailments
There's no denying that Cass goes on quite the journey of recovery, both physically and mentally, from the time of her car accident to the moment we first meet her in the book. To reflect that, the box includes two products that will help you soothe your own ailments.
The first is an all-natural body balm from the skincare company Duckish. The balm has a refreshing grapefruit scent, and is the perfect item to toss in your bag for mess-free moisturizing on the go.
Finally, to help with headaches, you can reach for the All in Your Head roller from Farmstead Naturals, which contains a blend of essential oils including lavender, peppermint, eucalyptus and rosemary for a botanical, beautifully-scented way to reduce any tension you're feeling (plus, the product's name is practically meant to be for a book in which the heroine's dream guy is initially a figment of her imagination).
Hushbug Book Club Discussion Questions
Cass wakes up from her coma with memories of her "dream" Devin, which are then joined by actual memories as she meets and begins dating Devin in real life. However, in reality, they're not quite as compatible as she initially thought. What did you think about Cass's journey figuring out who her real dream man was (especially since it wasn't who she expected at first)?
Initially, readers think that Devin and Cass will be the duo to get a happily-ever-after together, but it ends up being Perry who is her true dream guy. Do you typically like the love triangle trope? Did you enjoy it in this book?
Several characters in the book have their identity overshadowed by one thing — for example, Cass feels many people define her by her coma and accident, while her BFF Brie feels her identity is defined by her famous mother. What interesting things did the book have to say about identity and what defines us? Did that change for Cass as the book progressed?
Cass thinks she wants to work as a lawyer at a prestigious firm, but she eventually realizes she'd be happier taking a much different path. What did you think about how her character developed over the course of the book?
Bloom & Baubles, the flower shop Perry runs, is a key part of the story — it's the location of Cass's first meeting with her love interests, and it's at the heart of many important plot points. What did you think of the store's family history and connection to Perry and Devin's mother? Did you like Cass's grand gesture of painting a mural on the exterior wall?