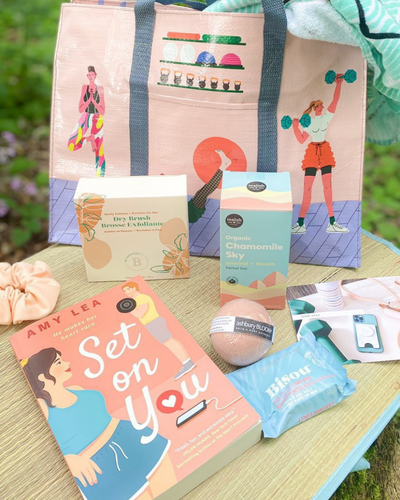 Hushbug Book Box — June 2022 Box
Our June Hushbug pick is Set On You, the debut novel from Canadian author Amy Lea. Lea weaves a hilarious and moving tale of enemies to lovers as Crystal and Scott meet at the gym and slowly fall for one another — while Crystal simultaneously learns how to love herself, just as she is. All the items in our box will help you embrace health and wellness, a passion of Crystal's.
Get gym-ready with some cute gear
Crystal helps transform the gym into a space of empowerment and happiness for all her social media followers and clients. What better way to channel that energy than with some playful, bold gear? From Blue Q we have the Workin' It Out shoulder tote. The bag is a stunning pastel pink hue with eye-catching illustrations of all kinds of women on it, doing everything from yoga to free weights. As an added bonus, the durable tote is made from waterproof material to keep your belongings protected, there's a zipper at the top so your items are secure, and there's even a little pouch on the front to slide your phone into (let's just hope you don't get into a phone-stealing war like Scott and Crystal did).
And, because having your hair down when you have longer locks can be a nightmare when you're all sweaty at the gym, try out the Apricot French Terry Scrunchie from Mar's Scrunchies. It's a gorgeous soft peach hue, and the super-sized scrunchie will help wrangle even the thickest tresses, so you can do your squats (hopefully by your version of the ideal window squat rack Crystal always covets) without your hair getting in the way.
Take time to pamper yourself after a long sweat session
Whether it's because she's been away from the gym for a while due to breakup blues or because she took on a tough workout to prove something to Scott, Crystal certainly has moments where she ends up feeling a bit more sore than usual after a sweat session. Everyone has those moments, which is why we've got two great products to help — perfect for if Crystal's story inspires you to find your own sense of joy and power at the gym.
First, soothe those sore muscles in a hot bath with the Ashbury Bloom Floral Dream Bath Bomb; the grapefruit essential oils will give you a burst of energy, and the kaolin clay will leave your skin soft and glowing.
Finish off with some body brushing with the dry brush from The Bathologist. Dry brushing can help improve circulation and open up your pores, making it a great addition to your bath routine
Enjoy a few tasty treats
Though you may try to find time to meal prep like Crystal — who even brings some of her leftovers to the firehouse from time to time — sometimes you just want something quick and easy but still nourishing. The almond & sea salt date bites from Bisou Dates are a tasty solution. Medjool dates add sweetness and a deliciously chewy texture, and they're accentuated with just three other ingredients — organic almonds, sea salt, and 70% dark chocolate.
A warm beverage can be just what you need to relax after a long day as well, and we've included the Organic Chamomile Sky tea from Tealish. Whether you're stressed about work troubles or relationship drama, the blend of chamomile, lemon peel, apple, rosehip, and turmeric make for a soothing brew. This tea can be enjoyed any time of day, but is particularly well-suited as a before bed beverage.
Hushbug Book Club Discussion Questions
This book featured the popular enemies-to-lovers trope — at first, Crystal is irritated by Squat Rack Thief a.k.a. Scott, before eventually falling for him. Did you like how the trope was used in this book? Why or why not?
A theme that runs throughout the book is Crystal's focus on body positivity, and the struggles she has with self-acceptance, which culminate in her switching up her platform as a way to help heal her own mental health. What did you think about her social media journey? How did her journey in the book allow her to take steps from claiming body positivity to truly accepting her body?
Scott reveals at one point that he was bullied as a child, and didn't always look the way he does when Crystal meets him. How did those details about Scott lend to the book's overall discussion about self-acceptance?
When the picture Crystal posts with her and Scott goes viral, with many people leaving negative and hateful comments, she retreats and wants to handle it all herself. Why does she have such trouble asking for help? Why is it so difficult for her to trust Scott?
As many rom com and romance books do, this book has an epilogue. However, Lea chose to write an epilogue in the form of a follow-up article to the viral one that nearly broke Scott and Crystal up for good. Did you like this creative take on an epilogue? Why or why not?