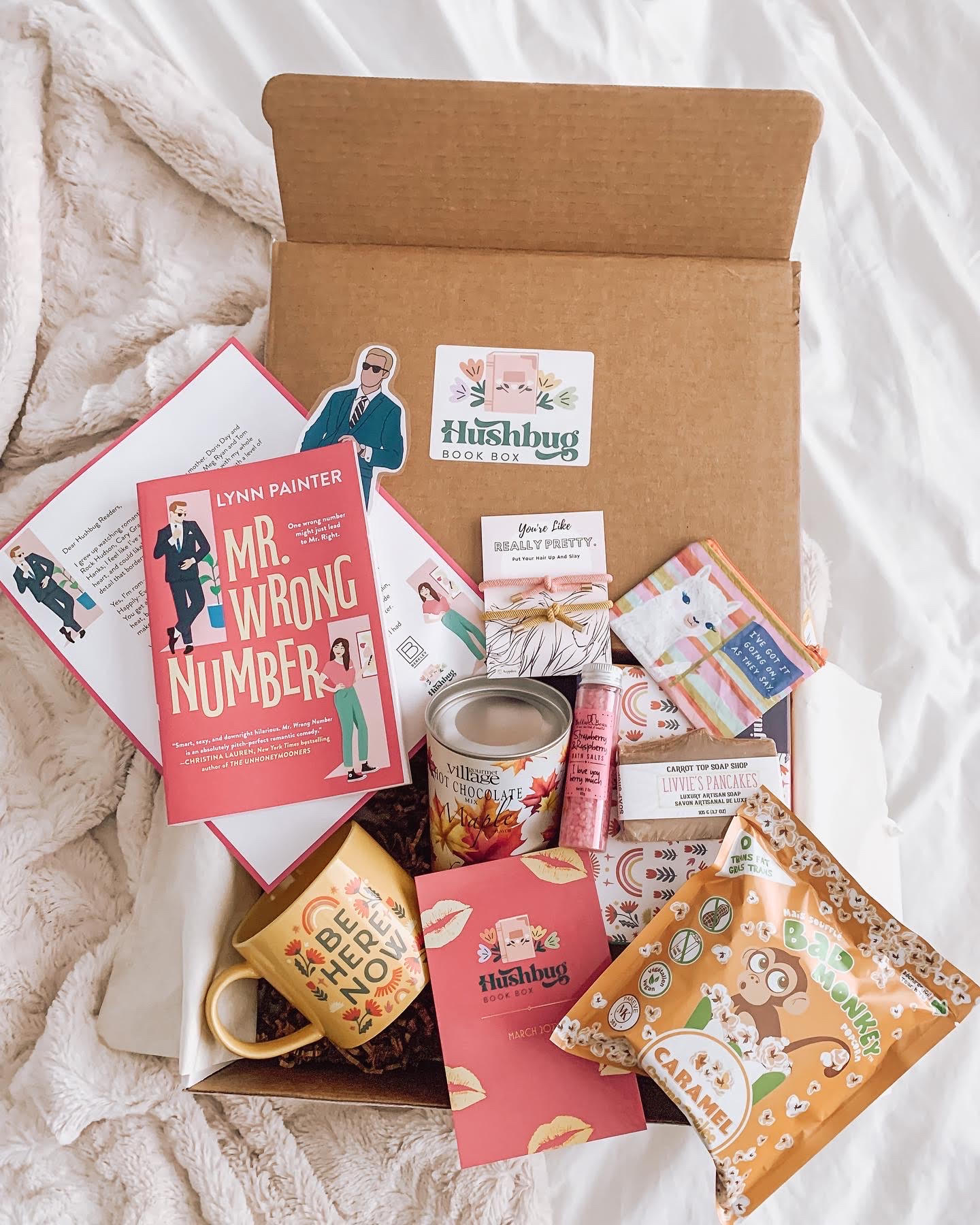 Hushbug Book Box — March 2022 Box
For our March pick, we selected a book packed with a sprinkle of spice and a healthy serving of irresistible banter — Lynn Painter's Mr. Wrong Number. And, we're thrilled to include a letter from the author herself as a little bonus for our subscribers. You'll love following Olivia and Colin's journey as they find their happily ever after — and we hope you love the items in our March box.
Channel your inner Livvie
One of the reveals we adored in this book was when Colin realized Olivia wasn't actually the disaster that so many people around her — including herself, at times — seemed to think she was. As he said on page 251, her accident-prone nature was simply because she was "living in high-definition, wide-awake, full-on color." We can't think of a better way to channel your inner Livvie than by sipping your favourite beverage from this gorgeous Danica Studio mug. Everything from the vibrant sunshine yellow hue to the whimsical illustrations to the statement on the front declaring "be here now" will serve as a reminder to remain present and open to whatever life throws your way — even if you stumble a few times, like Olivia does, at least you'll be living in high-definition, wide-awake, full-on color.
While the mug will add a splash of joy to any coffee mug collection, we obviously had to include a little something to go in it as well. The Gourmet Village Maple Hot Chocolate mix is the perfect blend of Colin and Olivia — it's comforting and warm, like Olivia's personality, with a hint of luxury á la Colin, thanks to the unique addition of the maple flavouring.
And, while you can't have your very own Colin, since he's fictional (trust us, we're disappointed too), we've included the next best thing — an adorable Book Boyfriend Bookmark from Steph's Book Therapy that captures Colin's debonair office-ready attire.
Find ways to boost your spirits on tough days
Even though it all works out in the end and she ends up with a happily-ever-after (a must in all romance, which is exactly why we love it so much), there's no denying that Olivia goes through some seriously tough times throughout the book. In seasons like that, often the best thing you can do is cultivate your inner strength by finding ways to boost your spirits until things become a little easier.
One of the best ways to relax and recharge after a challenging stretch is with a luxurious bath, complete with a few products to help level up the experience. Rather than stress eating pancakes like Olivia does when she loses her job and feels like everything is falling apart, soak in a steaming bath and use a bar of Livvie's Pancakes, a custom-made handcrafted soap we worked with Carrot Top Soap Shop to develop. The aroma of maple, butter, and vanilla will have you thinking Colin is whipping up a batch of pancakes in the kitchen nearby (which he does at one point in the book — another reason why we love him).
Or, if you're in the mood for something a little fruitier, try the Bella & Bear I Love You Berry Much Bath Salts. They have an incredible strawberry and raspberry scent, and will leave you feeling refreshed and ready to tackle whatever challenge life throws your way.
For those who would rather unwind curled up with a good book and your favourite cozy blankets, a sweet treat is an absolute must — which is why we've included Bad Monkey Popcorn's Caramel Creme Brulee Mini Monkey. Colin jokes at one point about Olivia being someone likely to spill nacho cheese sauce in her bed at any moment, so if you're slightly accident prone as well, this popcorn is the perfect reading snack — buttery and utterly decadent while remaining mess free, so you don't risk damaging one of your beloved books.
Nurture your own inner transformation
In addition to finding love with Colin, Olivia truly finds herself, honing her skill and voice as a writer as well as her self-confidence. If you're in search of your own confidence boost and transformation, one simple yet perfect tool is Tiny Gift Society's You're Like Really Pretty double hair ties. Whether you're going for a walk or run to take care of your mental and physical well-being (where you hopefully won't skin your knees, Olivia-style) or seeking a chic way to pull your hair back while working remotely and chasing those dreams, these hair ties will add a touch of style to your day.
Finally, the Blue Q I've Got It Going On recycled coin purse almost seems made for this book, embodying Colin's prowess with numbers as well as Olivia's sassy comments. Use the coin purse to tuck away a few dollars here and there, and they'll be waiting whenever you spot something to buy that you feel will help push you one step closer to your goals.
Hushbug Book Club Discussion Questions:
Two of the major tropes in this book are "brother's best friend" and "opposites attract." Do you typically like those tropes? Did you like them in this book? Why or why not?
Olivia and Colin both have complicated relationships with their parents. How does this impact their characters?
Olivia feels betrayed when she finds out that Mr. Wrong Number is actually Colin. Should he have told her sooner? What would the situation have been like if things were reversed and she found out first, hiding the truth from him?
Whether it's between Olivia and Colin or between Miss Misdial and Mr. Wrong Number, the conversations they have and the banter they exchange is a compelling part of their relationship. Why is that component such an important part of this book? Why is communication such an important part of any relationship?
Though she has moments of doubt, Olivia isn't afraid to live life to the fullest and take risks. If you struggle with that, how can you channel your inner Livvie in future situations?