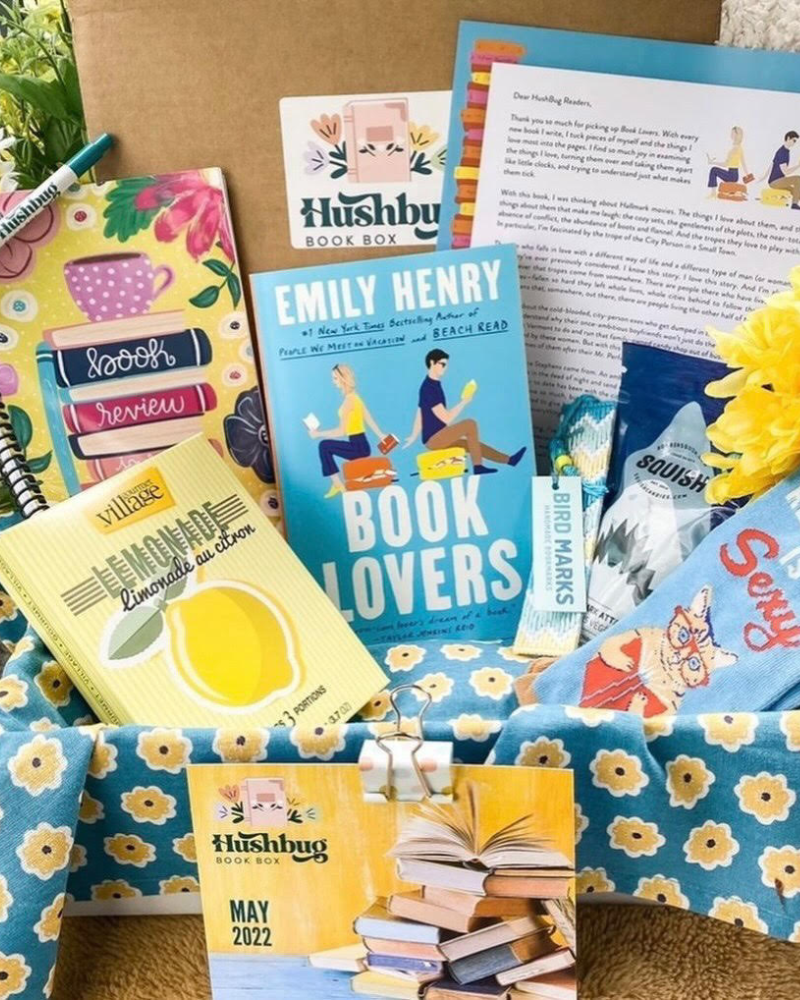 Hushbug Book Box — May 2022 Box
Our May Hushbug pick is a highly anticipated rom com release — Emily Henry's Book Lovers. Romance fans will love seeing a familiar trope turned on its head, as this book explores a much different approach to the typical small-town love story. As a perk exclusive to Hushbug subscribers, we have an author letter from Henry, in which she talks about the inspiration behind the book (hello, Hallmark movies!) and what motivated her to write Nora's story.
Enjoy some summer snacks — with a bit of a bite
There's nothing better than having a few tasty treats to nibble on when you're immersed in a book, so we've included both a snack and a refreshing beverage to enjoy while you binge read this new release. Since Book Lovers takes place over the summer, we wanted treats that would capture both the season, and a bit of Nora's spirit.
To quench your thirst, whip up a batch of Gourmet du Village's Refreshing Lemonade Mix. It's the perfect combination of sweet and sour, just like Nora. Then, in tribute to Nora's aquatic nickname and signature sharp smile, you can munch your way through the bag of Vegan Shark Attack gummies from SQUISH Candies.
Put on your editor hat
Charlie and Nora connect on an even deeper level as they work together to co-edit Dusty's latest book. Put on your own editor hat, thinking critically about some of your latest reads with the help of the Spring Florals Book Review Journal from Emily Cromwell Designs. As you make your way through your TBR list, you can track your reading as you jot down your rating, write down any particular quotes you enjoyed, and just document a few thoughts about the book. To make the process as easy as possible, we've even included a Hushbug Book Box pen that includes our pastel logo and branding.
And, we've also added an adorable binder clip to the box — there are countless uses for this staple office accessory, but we suggest using it to corral your own summer to-do list, a la Libby.
Add some joy to your daily routine
Partly because it's one of the only spots in Sunshine Falls with Wi-Fi, and partly because she enjoys being near Charlie, Nora spends a huge portion of her day working in the tiny cafe area at his family's bookstore. She enjoys the environment — and the view, if you know what we mean. It's a crucial part of her routine during her time in Sunshine Falls.
Add some joy to your own daily routine with two simple yet adorable items. The first is a pair of Shakespurr Socks from Uptown Sox — a must-have for any book lover, the socks featuring a bespectacled cat flipping through its latest read will have you charmed, and add a splash of whimsy to your sock drawer.
And, because book lovers always need more bookmarks, we've included a colorful handmade bookmark from Bird Marks that you can tuck into your next read — after all, you certainly wouldn't want to dog-ear the pages of your beloved books (we have a feeling Nora and Charlie would certainly not approve).
Hushbug Book Club Discussion Questions
This book features an enemies-to-lovers trope — Nora and Charlie start out as rivals, and their relationship slowly changes. Do you typically enjoy this trope? Did you like it in this book? Why or why not?
Why do you think books are such an important part of Nora's life? Why are they one of the only ways she can escape her buzzing mind and responsibilities and truly lose herself for a while?
Nora reveals that she always reads the last page of a book first. What does this say about her character?
The book has many discussions about finding a place to belong. On page 339, Henry writes "maybe it's possible to belong in a hundred different ways to a hundred different people and places." What does that statement mean to you?
The relationship between Nora and Libby is a key part of the book. Did you like how their relationship evolved over the course of the book? What were your thoughts on Nora's actions and the sacrifices she made for her sister?