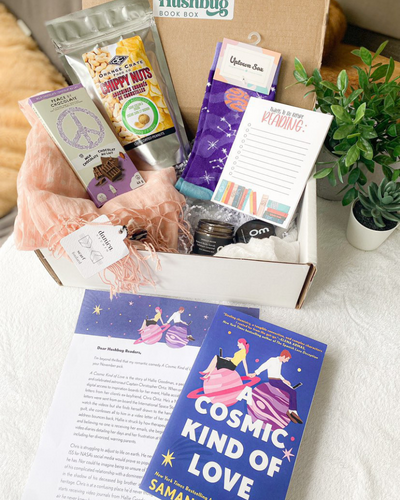 Hushbug Book Box — November 2022 Box
Our November Hushbug pick is a romance that's truly out of this world, A Cosmic Kind of Love by Samantha Young. We couldn't get enough of the sweet dynamic between Captain Christopher Ortiz and Hallie Goodman — and, of course, the way they first got to know one another through their videos is the stuff rom com dreams are made of. From Chris's struggle to decide on what direction his career will take to Hallie's complicated relationship with her parents, the duo have plenty of baggage to deal with. However, they soon realize that they're much better together than apart.
We've paired the book with an author letter from Samantha Young as well as several fantastic items that pay tribute to both Hallie and Chris, and their respective passions — we hope you enjoy!
Add a little whimsy to your wardrobe
Though she always looks professional when she's representing Lia Zhang Events at any of the luxurious parties she's planning, Hallie also isn't afraid to show off her personality through her style. So, this box has some accessories that will help you bring the spirit of the book into your own wardrobe.
There are several comments made throughout the book about Hallie's pink hair, with some characters absolutely loving it and others hating it. Given her signature hue, we couldn't help but include at least one pink item to pay tribute to Hallie — since not everyone will want to dye their own hair, you can instead incorporate Hallie's signature shade into your ensemble through a gorgeous printed blush pink scarf from Danica Studio.
And, we have a feeling that Hallie would find ways to pay subtle homage to Chris, even while she's busy establishing the Houston division of Lia Zhang Events and spending time with him every evening. Thus, we just couldn't resist the celestial-print socks from Uptown Sox. While you won't have the opportunity to look out at the splendour of space like Chris does while aboard the International Space Station, you can glance down and get your fix of the stars and planets in a chic way.
Indulge in a few treats
Whether they're grabbing a bite over a working lunch together (before Chris drops Hallie as an event planner so he can ask her out) or enjoying a romantic morning breakfast at Chris's apartment, the two lovebirds in the book certainly shared quite a few meals together. We figured we'd fuel your reading with a few tasty treats that pair perfectly with the book.
First, a unique product from Orange Crate Food Company, Chippy Nuts. These tantalizing bites pack a serious protein punch, and you'll find it tough to resist the combination of peanuts covered in crushed sour cream and onion chips. It's the kind of tasty, unpretentious fare that Chris would love to munch on while catching up with his Aunt Richelle in her cozy Hamptons beach home.
To cover all your snack bases, if you're feeling something sweet rather than something salty, you can indulge in Peace by Chocolate's milk chocolate bar. It's simple yet creamy and decadent — the ideal sweet treat to accompany your next rom com read.
Prep yourself for your own next chapter
Whether it's Chris grappling with what the next chapter of his career will look like or Hallie trying to make her parents (and awful ex-boyfriend) realize just how incredible she is at her complex job, both halves of the couple at the heart of this book have plenty on their plate. So, we thought it only fitting that a few of the boxes items would be aimed at helping you care for yourself as you embark on your own next chapter.
Hallie is endlessly organized, and while you may not be planning luxury events like she does at Lia Zhang Events, you can use this adorable notebook from Jaybee Design to jot down your own to-do list. Or, if Chris's foray into the written word inspired you to put pen to paper on a work of your own, jot down character ideas and plot points for your own rom com.
Finally, while planning is important, you also have to make sure you're taking care of yourself and nurturing yourself, both body and mind. Given the space-focused theme of this book, the Vanilla Moon Radiant Body Scrub from Om Organics Skincare is the perfect skincare accompaniment. It has an incredible vanilla scent and is packed with super moisturizing meadowfoam oil and coconut oil. Plus, it's free of parabens, sulfates, synthetic colours and fragrances, so even those with the most sensitive skin can pamper themselves with this scrub.
Hushbug Book Club discussion questions
Throughout the book, Chris talks a lot about his heritage and the struggles he's felt connecting to it, given that he never learned Spanish and never knew his dad's side of the family. What were your thoughts about this theme? How was Chris shaped by these struggles?
Chris and Hallie initially get to know one another through the video messages they record, which seem like a bit of a modern take on an epistolary trope. Do you tend to like novels where the characters get to know one another through letters? Why or why not?
On page 160, Young writes that Chris and Hallie were "drawn to each other like binary stars." Do you believe in soulmates? Why or why not?
Both Chris and Hallie have complicated relationships with their parents, for different reasons. How do those relationships shape their characters?
The book concludes with Chris and Hallie finding a compromise, a way to both pursue their dreams professionally while continuing to build their romantic relationship. Did you like that they ended up in Houston? Would you have preferred to see a different career path for either of them?