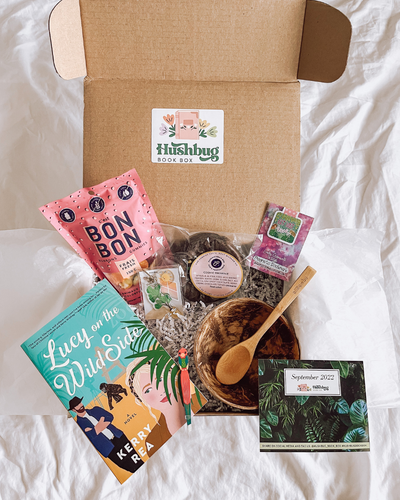 Hushbug Book Box — September 2022 Box
This month's Hushbug Book Box selection, Lucy on the Wild Side by Kerry Rea, brings you into a whole new world filled with exotic animals. The heroine, Lucy, is a primatologist whose life revolves around the gorilla troop she cares for. She has very little time left for anything else, especially love.
Her whole routine and worldview is shaken up when she meets TV personality Kai Bridges, and slowly shifts from hating him to falling for him as she learns to step outside her comfort zone.
We hope the items included in this box encourage you to take your own walk on the wild side, whatever that means for you (as a bonus, the included letter from author Kerry Rea will help you get to know the author and what inspired her to write this book). And, to honour Lucy's passion for gorillas, a portion of the proceeds from this month's box were donated to the Dian Fossey Gorilla Fund.
Weave a bit of nature into your everyday routine
When we meet her, Lucy is living in her childhood bedroom, complete with the pop culture posters she had as a kid. Whenever she eventually moves into her own space, however, we have a feeling she'll include touches of nature, from her favourite books on gorillas to wildlife photos — and why not take a cue from her nature-loving mind by weaving a bit of the wild into your everyday routine?
Whether you have a book as influential in your life as Dr. Kimber's was for Lucy growing up, something that you reread over and over again, or whether you just need something to mark the page in your latest read, a magnetic bookmark is the perfect solution to ensure you never lose your page. The one we've included from Emily Cromwell Designs has an adorable illustration and encouraging message that we love.
From Monday Yellows we've included an acrylic keychain with an illustration of either a monstera or fiddle leaf fig plant, allowing you to bring a slice of nature around with you while you're running errands.
Finally, add to your arsenal of pampering tools with safari-themed tweezers from Kikkerland Design Inc. While Lucy doesn't typically put much effort into her appearance, preferring instead to spend as much time as possible with her beloved gorillas, every now and then even she has to get all dressed up for a fundraising event or conference. We have a feeling that exotic animal-themed beauty tools would make her much more eager to change out of her muddy boots and khakis and get ready for special occasions.
Indulge in a few guilty pleasures
Lucy has a huge soft spot for reality television, and she's not one to turn down a delectable baked good either, whether it's something her grandmother baked or a cinnamon bun Kai brought. Entertainment — whether a rom com read or a reality television show marathon — and sweets are a perfect pairing, so we had to add a few treats to the box as well.
While you may not be able to taste the containers full of fairy bread that Mia prepares for Lucy, or the burnt sugar cookies that Karina makes, you can certainly satisfy your sweet tooth with the decadent chocolate-packed cosmic brownie from Pandoughra's Box. We have a feeling these would immediately make their way into Lucy's office snack collection.
And, for a perfect mess-free treat to enjoy while reading or watching your own favourite show, we have a mixture of exotic animal gummies from La boite à bonbons. Though the focus of Rea's book is on Lucy's corner of the zoo, we get glimpses into other departments as well, from Amphibians to Invertebrates — many of these creatures are represented in this sweet gummy mix (including, of course, monkeys).
Level up your meals with eco-friendly dishware
Given how passionate Lucy is about gorillas, she definitely wouldn't want anything to jeopardize their habitats — and we completely agree, being as eco-friendly as possible is always a win. The September 2022 box includes two eco-friendly items that will allow you to level up your meals.
First, we have a coconut bowl from Coucou Bamboo. It's made from natural coconut shells, handcrafted by artisans with a stunning design near the rim, and is perfect for enjoying meals at home. To go with it, a bamboo spoon from allBambu. While you can certainly use the utensil at home, the lightweight spoon is also great to bring on the go when you want an eco-friendly alternative to plastic spoons.
Hushbug Book Club Discussion Questions
Phil, Lucy's boss, wants to see her willingness to put herself out there before promoting her to senior keeper, and at one point Kai comments that she's made her world small, which really sticks with her. What examples throughout the book do we see of Lucy stepping outside her comfort zone?
Lucy has an incredibly strong relationship with Zuri, which we see throughout the book. Why is Zuri so special to Lucy? How did you feel about Kai's gift of the video that captured so many of Lucy and Zuri's memories together?
On page 259, Elle tells Lucy that "happiness and success are not the same thing." At first, this is something that Lucy disagrees with, but she eventually realizes that Elle was right. Discuss the quote and how the idea plays out in the book from the perspectives of different characters.
Lucy is quick to see the worst in people, and on page 110, states that "the only person you can count on is yourself." Why do you think she holds this belief? How does her belief in this regard change over the course of the book?
Dr. Charlotte Kimber was Lucy's hero for a very long time, but when Lucy sees the way Dr. Kimber treats Kai, her opinion drastically changes and she places the man she loves above her former hero. How does this show her growth? How would it have affected Lucy and Kai's relationship if she took Dr. Kimber's side rather than Kai's?