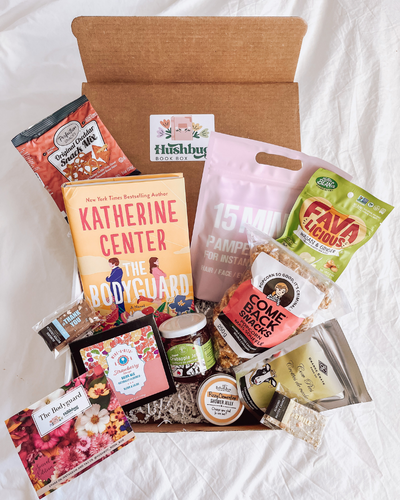 Hushbug Book Box — Special Edition Box
There's a good chance you've read a rom com or two where a burly bodyguard is protecting a VIP, from millionaires to royalty. However, Katherine Center's The Bodyguard, which we've selected for our Special Edition box, flips that trope on its head by pairing Hannah, a female bodyguard, with movie star Jack Stapleton. When the details of the job dictate that Hannah has to pose as Jack's girlfriend, the faux relationship quickly turns real as sparks fly between the duo. We hope you'll enjoy the highly-anticipated release — and all the treats we've packed into this Special Edition box!
Take a relaxing stay-cation
When we first meet Hannah, she's a workaholic who is always chasing her next assignment. Apart from a hastily-booked trip to Toledo (which ended up working out pretty well in the end, as those who read the Epilogue will know), she's not one to take vacations or even any time for herself. Even if you're not a workaholic on Hannah's level, everyone needs time to rest and recharge — and we've included a few items that will help you do just that.
First, whip up a refreshing beverage with the Strawberry Mango drink mix from Wine-A-Rita. You can combine the fruity mix with anything from wine to spirits like rum and vodka to soda or ginger ale, depending on your preference.
Then, put on your favorite movie (unfortunately, since Jack Stapleton is fictional, you can't actually drool over him on the small screen) and settle in for some serious pampering with Naisture's 15 minute Pamper Me Kit. The kit includes a hair mask, eye mask, hand and foot masks, as well as three different sheet masks, so you have plenty of options.
Finish off your home spa day with the luxurious Fizzy Clementine Shower Jelly from Bella & Bear, which has a refreshing citrus scent and will leave your skin feeling incredible.
Set yourself up with snacks for all occasions
Whether you're reading the next book in your TBR pile or tossing on a favourite rom com flick you've seen a hundred times, snacks are always a good idea — and we've got quite a range of treats in this box.
If you're looking to satisfy your sweet tooth, you won't want to miss the decadent chocolatey Cow Pies from Orange Crate Food Co. The sweet treat reminded us of the moment in the book when Hannah gets terrified by the cows on the Stapleton family ranch, to Jack's amusement — luckily, these treats don't come with any bovine companions. And, for the perfect movie night snack, try the Double Coated Caramel Popcorn from Comeback Snacks, which is the perfect blend of creamy, buttery sweetness in the caramel coating and crunchy popcorn. That's not all — to finish off our sweet selection, we've included assorted toffee bars from Fraser Valley Gourmet in adorable single-serving packages that are perfect to tuck away for you need a little pick me up.
Those looking for something on the savoury end of the snack spectrum will have plenty to choose from as well. From Perfection Snacks, we've included their classic Original Cheddar Snack Mix, a cheesy, gluten-free combination of pretzel twists and sticks, cheese curls, and tortilla chips. Those in search of a protein boost will want to sample the Favalicious Roasted Fava Beans from Nuttee Bean Co., a treat that packs a whopping 14 grams of plant-based protein per bag.
Over the course of the novel, we learn more about the family that lives on the Stapleton ranch and the struggles they're facing than about the working of the 500-acre ranch itself. However, with that much land, we have a feeling Connie Stapleton has designated a spot or two to plant fruit trees —that's exactly what the Smyth family, who founded Apple Flats Foods, did on their Ontario farm. That first tree turned into a bustling business, and we've included one of their beloved products, Crabapple Jelly. The tart yet sweet mix is the perfect addition to your breakfast, whether you want to enjoy it on the go or while wandering your favorite spot (if you happen to walk by a river, though, just don't make Hannah's mistake and decide to wade in!).
Hushbug Book Club Discussion Questions
This book featured a forced proximity trope, when Hannah has to stay at the Stapleton ranch in order to protect Jack without worrying his mother Connie. Do you typically enjoy the forced proximity trope? Did you enjoy it in this book? Why or why not?
Right at the beginning of the book on page 13, Hannah states that "escape is my favorite thing" — by page 240, after everything she's gone through, she says "now I wonder if escape is overrated." Discuss her change of heart that these statements reflect.
When Jack first meets Hannah, he doubts her ability to do her job because of her size (although she quickly proves him wrong by flipping him over her shoulder). Do you enjoy books where the heroine works in a typically male-dominated field? How does Hannah's career shape her personality?
Jack and his brother Hank have a somewhat fractured relationship due to events around their brother's death, but when Jack reveals the secret he had been keeping for his brother, we see them take steps towards repairing that relationship. Do you think Jack should have revealed his brother's secret sooner, or continued keeping it to himself? How do you think Jack and Hank's relationship will continue to progress moving forward?
In the Epilogue, Center writes the following: "The people we love help teach us who we are." Discuss the quote, both in the context of this book and in a general sense.